LASH AND BROW PROFESSIONALS
Studio of the Year 2018 /19
Master Lashes in Surry Hills is a multi award-winning eyelash and micro-blading studio. With over 20 years of professional experience - as well as being one of Sydney's leading accredited training salons - you're guaranteed to be in safe hands. Book an appointment online today for a beautiful, natural or glamorous look.
"By being yourself, you put something wonderful in the world that was not there before"
Classic Lash application is the process of applying one extension to one natural Lash to extend and enhance your look. These lashes can range in thickness, length and colour to match the inner you.
​
Volume Lash application is the process of applying a hand made fan of 2-5 Lashes to one of your natural Lashes, noting that the Lashes are finer even than your own ones to create a fluffy and full look. These lashes can range in length and colour and even be a mixture of colours to give a natural or dramatic look depending on your mood.
​
We are also one of the few lash salons in Australia with expertly trained technicians who undertake the Hooded Eyelid Lift Lash Extensions treatment. This treatment uses a specialised approach to the placement and type of eyelash extension to effectively hide hooded eyelids.
Why a wax with Us?
Simple, we use the Orb™ which minimises the pain and so reduces redness associated with waxing and is reportedly the safest waxing system in the world.
​
Why tint with us?
We blend our tints to ensure that we find the perfect colour to suit our clients, not a single colour that our clients have to live with.
​
Why thread with us?
We have threading staff that have been trained professionally at HD Brows® and WowBrow™ to service your threading needs at the highest calibre.
Microblading or feathering is the process of shaping and enhancing your brows using fine and delicate strokes to mimic your natural eyebrow hairs.
Cosmetic tattooing or micro-pigmentation is a semi-permanent process for enhancing your features by applying a colour safe pigment into the dermis layer of your skin. It is a safe long-lasting alternative to the daily application of eyeliner or lipstick with the added advantage that it will never smudge or run, no matter how many hours you spend at the beach, out on the town or on the treadmill.
Frequently Asked Questions
Eyelash Extensions
What are eyelash extensions and how long do they last?
---
Eyelash extensions or semi-permanent eyelash extensions are extremely different from temporary strip or individual lashes. Semi-permanent ones are applied by hand one lash at a time by a qualified technician who fastens the extensions on top of your actual lashes. Note they should never be attached to your skin. They can last for six to eight weeks with proper care and remain on your natural lashes until they organically fall out with natural lash, as all natural lashes do.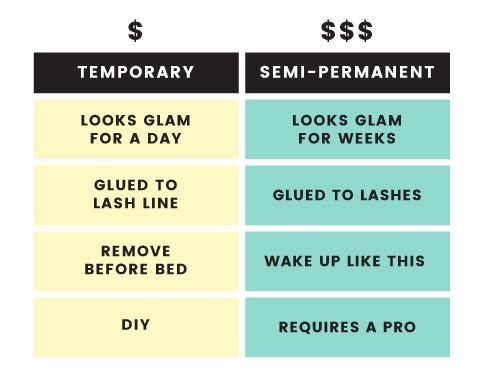 ---
Can I wear eyeliner or apply mascara to eye-lash extensions?
---
As the lash extensions are attached to the base of your natural eye lash there are no issues with using eyeliner, although you will probably find that with the application of lash extensions being uniform in colour and thickening the base of your natural lashes that eyeliner is not necessary. If you do where eyeliner then it is recommended that care be taken when removing it. Do not use an oil-based makeup remover, as oil-based products may negatively affect the glue and use cleansing wipes rather than cotton balls or Q-tips. As for mascara, while you can apply mascara, it is not recommended as the brush could potentially pull on your lashes and cause them to be damaged, loosened, or removed. Plus, you should find you don't need any at all once you've got these! If however you are going to use mascara you should avoid waterproof mascara and should only apply mascara at the tips of lashes.
---
Can I swim, shower, exercise or visit a spa with my lash extensions?
---
Once the adhesive has cured your eyelash extensions are only likely to fall out with your natural lashes, so adjustment to your lifestyle shouldn't have to change much. It should be noted that activities that make your natural lashes fall out quicker, such as rubbing your eyes vigourously, sleeping on your stomach, etc will obviously have an affect on the life of the extensions. The common belief is that the curing process will take up to 24hrs from application however with Master Lashes formulated bonding agent we believe that most activities can be undertaken within 2 hours of application.
---
Are eyelash extensions safe?
---
If eyelash extensions are applied by qualified professionals who understand the risks associated with eyelash extensions and the importance of hygene, insist on high quality products such as lashes and glues and ensure the sterilisation of equipment, then the process will not ruin the health of your natural lashes or have adverse effects on your health. You may have to pay a little more for these things, but a cheap set of lashes by an unqualified technician may do more than damage your lashes.
---
What is the difference between 'silk' and 'mink' lashes?
---
Historically when the lash industry was in it's infancy there were only two different types of lashes. One was thick and glossy like the mink's fur and surprise, suprise we called these 'mink lashes'. The other was fine with a matt finish like silk fabric, and yes you guessed it we called these 'silk lashes'. As the industry developed, the types and styles of lashes adjusted to address the individual nature of the client, their needs, their eye shape and their natural lash textures. Today we have 100s of lash types with varying lengths, thicknesses, curls and colours. However there is one thing that has not changed from the first eye lash extension ever placed to the one you have placed on your lashes today. THEY ARE ALL SYNTHETIC You may read that the lashes are brushed from the fur of a 'virgin' mink or that only the finest silk is used in the production of our lashes, but rest assured this is about as true as a politician's promise
---
---
Micro-blading
What is microblading and who is it for?
---
Unlike a regular tattoo, microblading is a form of tattoo artistry where pigment is implanted under the upper layer of your skin with a manual handheld tool instead of a machine. The microblading technician uses individual strokes to mimic hairs and so give a natural appearance. Microblading is perfect for those who want to fully reconstruct, define, reshape, cover gaps or scaring, or fill-in over plucked brows. For more details on the process see what the Cosmo had to say, or call, text or email Master Lashes
---
How long does it take and how long does it last?
---
As part of the process for microblading it is essential that a consultation process is undertaken. Here you will be made aware of before and aftercare requirements, will go through risk and hygene procedures, will agree on the shape, colour and style and ensure that you are comfortable with the process. This is a vital step and as the client you should never be afraid to voice your opinions or to say 'This is not for me'. The consultation process can take up to 30 minutes. The microblading can take up to 2 hrs depending on the agreed on style, shape and colour although a general rule is that it will take about 1hr. Microblading is a semi permanent process. The pigments are introduced into the upper level of the epidermis and as such as your skin rejuvenates and is replaced the pigments will move with the growth of your skin and fall away as part of your dead skin. This process can take from 1 to 3 years depending on the individual and how quickly their skin is replenished. Age and/or dry skin usually result in the microblading lasting longer than youth and oily skin.
---
Is micro-blading safe?
---
With any process which involves abrasion to the skin there are risks associated with the process and there are circumstances where the risks associated with microblading mean that a qualified and trained technician will tell you that they will not undertake the process. This is why you generally have to fill out a life history prior to undergoing the process. While all technicians should ensure that the highest standards of hygene and sterilisation are occuring in the workplace. It is also vital that the customer should not be afraid to ask in relation to this. If you are suitable for micro-blading and you have a suitably qualified and trained technician who implements the necessary quality, health and hygene requirements then the process is generally very safe. You may experience redness and some discomfort immediately after the process (although most customers say it's the little itches which are the most annoying as you can't scratch or rub your eyebrows for a week) and there may be minor short term scabing associated with microblading, but your technician will tell you how to manage these issues.
---
---
and see the difference for yourself
511 Crown Street
Surry Hills, NSW 2010
2C Heeley Street
Paddington, NSW 2021